Elemental Heroes the Warriors of the 4th Speed
Hey ADA

Somebody has to do it so here I come with an article on the most popular archtype of the Yu-gi-oh GX Show, of course I am talking about Jaden's Favorite Monsters, Elemental Hero's.
E-Heroes have been in this game for many years now. Many years means many formats and like all the archtypes that have been in this game for more than 3 years, they had to evolve format after format to keep the flow of the game and still be considere playable for Yugimonz players. Unlike many old archtypes, Heroes keep getting support from Konami after so many years, Elemental Hero Escuridao, the new masked heroes, the vision hero's etc... but that's not all. Elemental Hero's have in their arsenal the all mighty spell "Super Polymerisation" which is considered by some players the most powerfull card in the game.
Well enough for the intro, let's start the real buzines. In this article I will cover the 3 most popular versions of Elemental Hero's with all their upsides, downsides, tricks, combos etc... and at the end of the article I will explain how to use Super Polymerisation to make your fusion monsters invincible to traps like bottomless trap hole and Torrential Tribute. Let's start with the old favorite or hated version of Elemental Hero's variants.
The Light-Beat
Light beat stands for Light Beatdown. The deck doesn't really run a lot of heroes besides Stratos and Alius. Unlike most of the Hero's variants, this one is not based on speed. This is more and anti-metaiiisshh control based Hero deck. Light Beat usually runs between 7 to 14 monsters, most of them Light and 1900 beaters, a lot of monster destruction cards to keep the control of the field and use miracle fusion as their wining condition key card. Even though the deck don't really rely on fusions to win their duels, Miracle Fusion is necessary to come back in the game if you fail to keep the control of the field at some point of the game or just to give that final push to end the duel.
Pros : Generates good hand advantage with Gemini Spark and Hero Blast. Almost unaffected by main tech cards like Effect Veiler and Maxx C. Can deal with almost anything your opponent throw at You.
Cons : Have some troubles to keep up against swarm decks. Kinda Slow for this kind of format.
Tips : This deck can switch from Light-Beat into Macro Hero in Game 2 against some decks.
Techs for a Light Beat : Photon Thrasher, Skill Drain, Beast King Barbaros, Forbidden Chalice, Forbiden Lance, Honest, D.D Warrior Lady, King Tiger Wang-Hu, Thunder King Rai-Oh, Doomcaliber Knight, Snowman Eater, Penguin Soldier, Fossil Dyna.
The Shining Gate/Hero Gate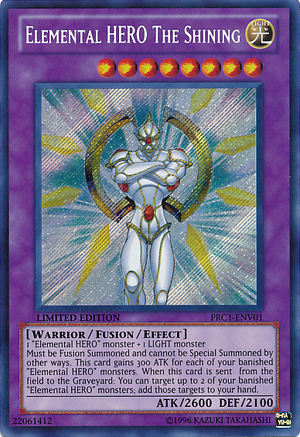 Shining Gate stands for Elemental Hero The Shining and Fusion Gate. Unlike Light beat, the purpose of the deck is not to control the field but to corner your opponent abusing of Elemental Hero Stratos effect to add fusion materials to your hand to feed your Fusion Gate. Elemental Hero the Shining's effect to add 2 banished Hero monsters back to your hand is basicly the key to spam the field with fusion monsters but the deck have also some other cool setups to recycle their banished monsters.
Leviair : You can use Tour Guide from the underworld to summon Leviair and use his effect to recycle your Stratos. XYZ monsters also helps you to feed your graveyard for Miracle Fusion.
Elemental Hero Voltic : He may seem weak with only 1000 ATK points but if he touches your opponent life points, he can SP Summon Stratos and give you the same pluses as Leviair. He can also be use for an OTK setup or a final big push.
Pros : Make good use of both effects of Stratos ( make a better use of the second when you play royal decree/Trap Stun ). Versatile and can Generate OTK's
Cons : Rely a lot on Fusion Gate. Have a bad game 1 against Hero decks because of their own Fusion Gate.
Techs : Chain Material, Tour Guide, Elemental Hero Voltic, Summoner Monk, Return From the Different Dimension, D.D.R Different Dimension Reincarnation, Royal Decree, Vanities Emptiness.
Bubble Beat/Alive Hero
Like I said in the intro, Hero's had to adapt themselves to every format. I covered the anti meta version of Hero's then the mass fusion version and now we are finally in the new generation of Hero's, The Bubble Beat. Bubble Beat runs even less monsters than Light Beat, 5 to 7 , and is definitly the most agro Hero variant. The purpose of this deck is simple ... ''OTK'' ... and it does it pretty well. The deck plays arround Stratos effect to add Elemental Hero Bubble Man to your hand to then use Bubble Man and Stratos as XYZ Materials to summon Fearsome XYZ monsters such as Armor Blade Ninja and Heroic Champion Excalibur ( Excalibur will hit the TCG in august ). The mention of bubble man now probably answer your questions about why this deck run such a low count of monsters.
OTK Setup 1 : A hero Lives and the Warrior Returning Alive in hand( no monsters in hand )
Step 1 : Activate a Hero Lives to SP Summon Stratos and Get Elemental Hero Bubble Man with Stratos effect
Step 2 : Set all your Spell/Traps
Step 3 : Special Summon Bubble Man with his own effect.
Step 4 : Overlay Stratos and Bubble man to XYZ summon Blade Armor Ninja
Step 5 : Use Blade Armor Ninja's effect detaching Stratos.
Step 6 : Use your face down the warrior returning alive ( the one you set in step 2 )to bring back Stratos from the graveyard to your hand.
Step 7 : Normal Summon Stratos and add Bubble Man to your hand with his effect.
Step 8 : SP summon bubble man with his own effect.
Step 9 : Overlay Stratos and Bubble Man to XYZ Summon Heroic Champion Excalibur ( it can be another blade armor ninja but excalibur is better for a gorz scenarion )
Step 10 : Activate Heroic Champion Excalibur Effect and Attack
2200 Twice 4000 = 8400
OTK Setup 2 : 1 Stratos ( no other monsters in hand ) and Call of the Hunted face down and ready to be activate.
Step 1 : Normal Summon Stratos and Get Elemental Hero Bubble Man with is effect
Step 2 : Set all your spell/traps
Step 3 : Special Summon Bubble Man with his own effect
Step 4 : Overlay Stratos and Bubble Man to XYZ summon Blade Armor Ninja
Step 5 : Use Blade Armor Ninja Effect sending Stratos to the graveyard
Step 6 : Use Call of the Haunted to Special Summon Stratos and Get Bubble Man with his effect
Step 7 : Special Summon Bubble Man with his own effect
Step 8 : Overlay Stratos and Bubble man to XYZ summon Heroic Champion Excalibur
Step 9 : Activate Excalibur effect and attack.
Pretty much the same setup with different cards but it shows you how easy it is to setup and OTK with this deck.
Techs : Instant Fusion, Card Car D, Future Fusion, Zephyros the Elite, Call of the Haunted, The Warrior Returning Alive, Night Beam.
Pros : The speed of the deck matches the speed of any swarm deck in this game or even surpass it. Can be Deadly the 1st turn when going second.
Cons : Bad in Late game.
Tips : This deck can switch into Light-Beat when going against Anti-Meta/Dino Rabbit
Super Polymerisation : Quick Play … Speed 4
There is no such thing as a speed 4 card in the Yugioh rule book but Super Polymerization definitly screw the rules. Super Poly is a double edge sword, it is both the best weapon in Elemental Hero's arsenal and also their worst enemy. People have a lot of opinions about Super Poly, some say the card should be banned others think the card is just OK but the truth is that the card is really broken. The activation of the card is already invincible and, when used properly, the monster special summoned by Super Poly's effect can also be immune to traps like Bottomless Trap Hole and Torrential Tribute.
Random Guy : What the hell are you talking about, The card says your opponent can't activate any card in response to the activation of super polymerisation but it doesn't say that your opponent cannot respond to the summon.
Scorpion : Right You are young Padawan but the answer to how to perform an invincible Fusion summon are not writted on the text of the card, You will perform an invincible summon using your common sense and advanced rulings knowledge.
Kaiba : Screw The Rules I have Money !
Scorpion : So like I was saying, you will have to use your ruling knowledge, more precisely your chains rulings. Super Polymerization is a quick play spell card so that means you can chain it to any spell speed 1 or spell speed 2 card.
Invincible Summon Exemple 1 : Your Opponent control a Light Pulsar Dragon and a Face Down Bottomless Trap Hole
You have an Elemental Hero monster on the field.
You activate E – Emergency Call and then you chain Super Polymerisation to it.
Emergency Call is the 1st link of the chain and Super Polymerisation the 2nd Link.
The chain Resolves Backward.
Super Polymerization Resolve 1st sending your Hero monster and your opponent's Light Pulsar Dragon to the graveyard to Special Summon Elemental Hero the Shining.
Emergency Call Resolve 2nd adding an Elemental Hero monster to your hand.
What is the last thing to happen in this chain? It is Emergency Call adding a monster to your hand. Can your opponent activate Bottomless Trap Hole after the resolution of Emergency Call? The Answer is NO. Is your opponent allowed to break the chain activating Bottomless Trap Hole in the middle of the chain to destroy and remove your Shining. The answer is NO
Invincible Summon exemple 2 : Your opponent control Wind-Up Zenmaines and a face down Torrential Tribute
You Summon Elemental Hero Stratos and activate his effect to add a Hero monster to your hand
You then chain Super Polymerisation to Stratos effect.
Super Poly will resolve 1st sending Stratos and Zenmaines to the grave to Special Summon elemental Hero Nova Mater.
Elemental Hero Stratos effect will resolve 2nd adding a Hero monster to your hand making your opponent miss the timing to activate Torrential Tribute
We are done for today fellow members of ADA. I hope you liked this Hero guide, I tried to cover the most important aspects of each Hero variant and I hope I covered them well. Don't forget to leave your comments and impression below
-Scorpion67-
PS : As a Demand I received by a reader on DGA, This article while be update soon with information on Little city and Big City.